Centor is a multi award-winning designer and manufacturer of innovative folding, locking, screen and blind systems for windows and doors. Founded in 1951 in Australia, Centor has branches across Australia, as well as regional headquarters in Chicago (USA), Birmingham (UK) and branches in Florida, Nantes (France), and China. Centor is a third-generation company and employs around 160 people worldwide.
History
German-born engineer Frank Spork founded Centor in 1951. Frank's single-minded goal was to produce the finest sliding door track available. This dedication to quality and innovation has been constant across three generations and six decades of history at Centor.
The name Centor comes from 'Central Queensland', the region of the state where Frank initially started the business, and 'tor', the German for door. This melding of words is reflective of Centor's Australian roots, and its international attitude. As Centor's reputation grew, Frank opened a factory in Brisbane, Queensland, where Centor maintains its international headquarters to this day. In the decades to follow, the Brisbane site would change and expand to meet the demand for its high-end, solid and reliable sliding systems.
1998 became a turning point in Centor's history as Frank's grandson Nigel Spork took over the company directorship. This was the year Nigel invented the first ever weather-sealed folding door system, changing architecture forever and revolutionizing the outdoor lifestyle. External folding doors became so popular, Centor grew from just 23 staff in 1998 to over 160 in just over a decade. This growth allowed Centor to expand overseas, opening regional headquarters in Birmingham, UK in 2004, and in Chicago, USA in 2005.
This amazing growth also allowed Centor to invest even more in research and development. Centor has one of the largest R&D departments of any company in the industry, and continues to create market-leading innovative products such as our retractable screenand blind system for bifold-scale doors.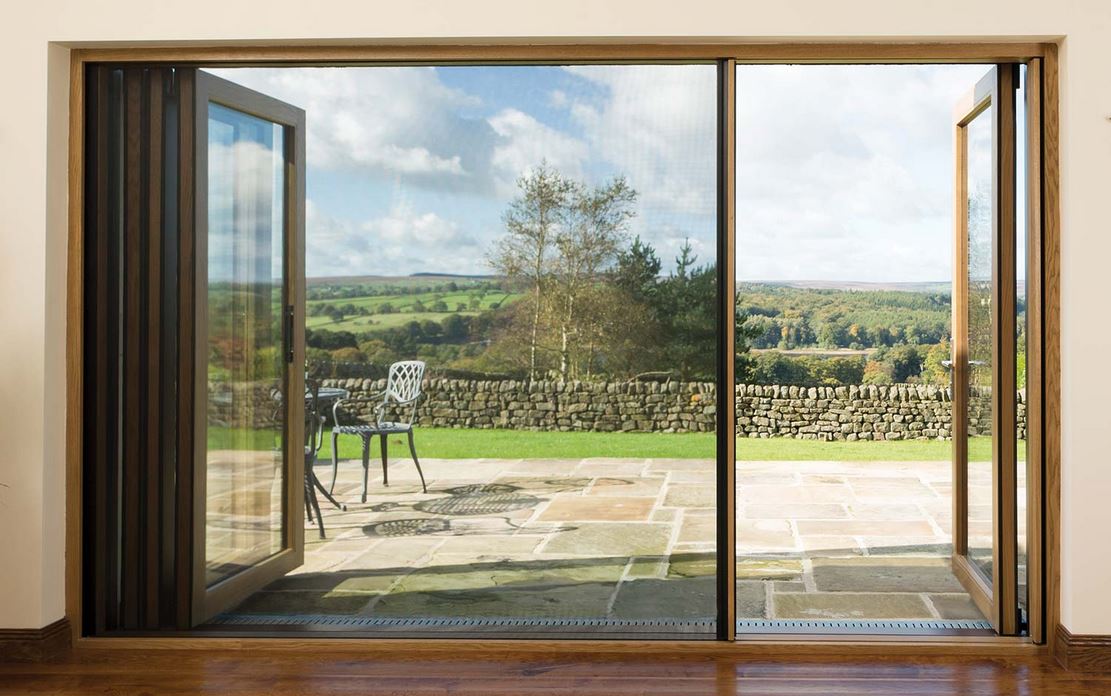 Research & Development
Centor is 'moved by innovation'. With one of the largest research and development departments of any company in the industry, we aim to be at the leading edge of technology and design in window and door systems. This commitment to innovation is coupled with the driving aim to create systems that are easy to install and a delight to use.
'Easy to install' means design features that assist both assembly in the factory and installation on-site. This includes manufacturing aids such as dedicated drill jigs, calculation software and profile-matched router bits.
'Delight to use' not only means a high quality, well-functioning product, but also one that is compelling for the homeowner or end-user. That means folding systems that open up homes to the outdoors, unobtrusive screens and blinds, and stylish and secure locking options.
Centor achieves these goals through a combination of research into what the market genuinely wants and needs, as well as thorough testing once a product is developed.
The research involves our design engineers meeting with leading architects, specifiers, joiners and window and door companies. We talk to a range of people in a variety of roles to get unfiltered information about the real issues. From this information we learn what the market needs and wants, and how they want it to work. After a system is developed, it then undergoes exhaustive testing to ensure it can withstand real-life use
Centor has solved the problem of screening large openings with its horizontal retractable insect screen system. Openings as wide as 24′ can now be effectively and unobtrusively screened, with the robust system operating with just the touch of a fingertip
The Centor blind completely retracts out of sight when not in use, making it the unobtrusive alternative to curtains and other blinds. This is especially important for large openings where other options would clutter the view. The Centor blind is suitable for openings up to 24′ wide, and its mechanism is concealed entirely within the frame.
Leading Australian architect Shawn Godwin installed the blind in his award-winning home. "Blinds have always been an issue for architects ensuring they won't clash with windows when open, or look like some clunky add on. These just disappear. They are brilliant."
The Centor blind opens and closes with the same ease associated with all its systems. There are no cords to tangle or spring loading to fight against as found in other blind systems. The Centor blind can be operated without having to think about it, letting you control temperature, sunlight and privacy in your home with just the touch of a fingertip.
When not in use, the blind retracts completely into the doorjamb and when required, the blind pulls out horizontally across the opening. Centor's patented technology keeps the system balanced, so the blind can be operated at any height on the stile, making it a breeze to use even for small children.
A five-year warranty and exhaustive testing mean you can be confident your Centor blind will withstand real-life use. The system has passed 400,000 cycle tests, and has been exposed to dust, mud, sand and salt spray. To simulate the expected real-life bumps, it has also been impact tested 100 times with a 37-pound punching bag.
The blind is made from hardwearing fiberglass/PVC fabric and is available in a range of colors. The operating mechanisms are self-contained and require no maintenance other than keeping the tracking clear of dirt and debris. If the blind is pulled out of its track, the self-feeding mechanism will return the blind to its correct position by simply retracting it.
Technology developed by Centor ensures the blind stays straight and tight across the widest spans (up to 24′). This combination of sturdy material, testing and thoughtful design ensures your Centor screen system will operate as new for many years to come.
or the large openings created by folding or sliding doors, Centor's blind offers a functional and discreet alternative to traditional window furnishings. In openings as wide as 24′, the Centor blind disappears when not in use, leaving your views uncluttered by curtains or other types of blinds. Opening and closing the blind is also a breeze, with no cords or heavy fabric to worry about.
Tight Technology™ and Load Balancing Technology™ developed by Centor ensure the blind stays straight and tight across the widest spans.
The Centor blind is versatile enough to suit the needs of your lifestyle. The blind system can be combined with a screen in the same unit (for openings up to 12′), offering a complete solution for protecting your openings. Choosing a pale fabric color also allows the blind to be used as a projection screen.
The blind fabric is available in a range of colors, and the frame and stile are available in timber or metal finishes in colors to match your doors and décor. Every system is custom-made to order, so you can fit out doors and windows throughout your home to any specification required.
A Centor blind can improve the efficiency of cooling and heating in your home, making it a sustainable option. The blind improves an opening's thermal performance by deflecting UV rays and transforming the opening to the equivalent of adding an extra layer of glazing.
The blind creates a sealed air pocket between the blind fabric and the door, so single-glazed openings will perform as double-glazed (and double-glazed as triple-glazed). This means in cooler weather, less heat is lost through the doors, and less cold air can come inside.
The blind can also reflect up to 95% of UV rays and reduces temperature transfer through the doors. This keeps interiors cooler and makes air-conditioner use more efficient, reducing your home's carbon footprint.
There's nothing more beautiful than the natural world and nowhere more special than the part of it that you call home. When you connect to the beauty outside, you live better, every day.